Las Vegas Shows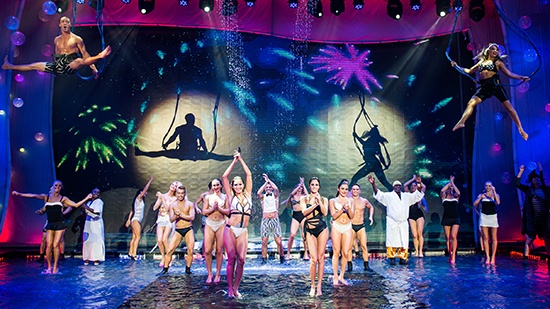 Splashy 'WOW' Will Be Las Vegas' Newest Water-Themed Fantasy Show
There's something about naming a show "WOW" that creates a certain expectation. Director Hanoch Rosenn, who made an international name for himself as a mime, says that's the whole point.
---
---
Las Vegas Dining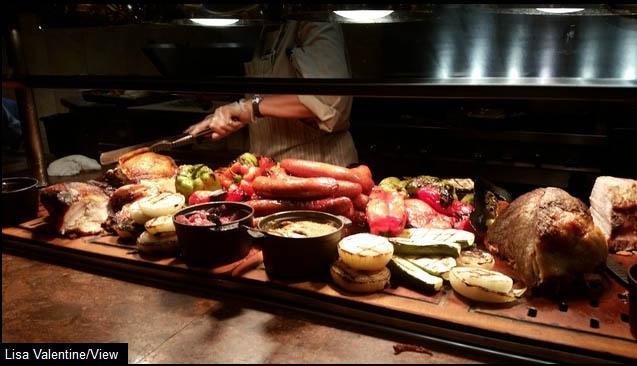 The Definitive Las Vegas Buffet Strategy Guide
Would you wander on to a battlefield, unarmed? Probably not. You'd want to have a strategy, too—unless, of course, you enjoy being blindsided by your adversaries. Okay, so lining up for a Las Vegas buffet isn't exactly going to war, but showing up with no plan is a really bad idea.
---
Las Vegas Tours And Attractions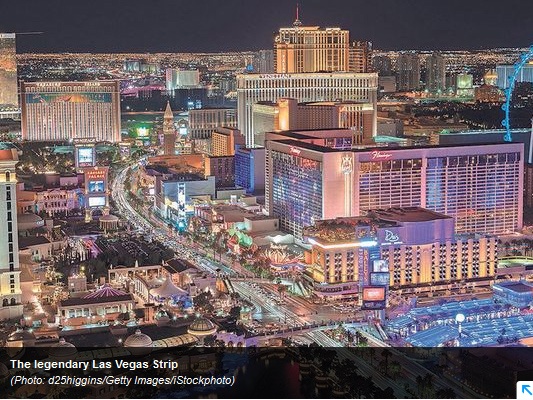 Las Vegas named the Most Fun City in the U.S.
Las Vegas beat out 149 other cities to become the most fun city in America, according to a recent study by WalletHub.
---
---
---
---
Newkirk's Notes
Hello From Las Vegas – Things have returned to normal for visitors. Many are adding a trip to the Las Vegas sign to their itineraries simply to pay tribute to the victims. Just a reminder that we're leaving the basics of the day-to-day news coverage to the news outlets. I'm not a law enforcement expert, and in an ongoing investigation, new facts change the big picture almost daily.
What we ARE doing is linking to specific human interest stories regarding the events, which you may have not seen in your local news coverage. We know that many of you almost feel like you are an honorary citizen of Las Vegas and will find them of interest.
A belated shout to the hotel companies which offered free lodging to the friends/families of victims who were forced to make an unexpected Las Vegas trip. Those included the South Point, Boyd Gaming (Orleans, Fremont, Cal, Main Street Station, Sam's Town), and Station Casinos (Red Rock Resort, Green Valley Ranch, and every casino in town with the name "Station" in it, except for Main Street Station).
Also, University Medical Center and the three St. Rose (Dignity Health) are dedicated to make sure that victims do NOT feel any financial impact from their treatment. Other hospitals have said that they will be very sensitive to the issue. In addition, the State of Nevada has a victims program which helps pick up the tab for treatments if victims fill out witness statements and are cooperative.
Between the Las Vegas Victims Fund (click to give, every little bit helps) and other major direct donations and pledges, donations are into the 8 figures. Having said that, a couple of independent auditing sources have suggested that because of the number of victims, and seriousness of some wounds and the treatment and therapy needed (some people won't ever walk again, and others may not for months, and that is just the tip of the iceberg), the amount collected so far won't cover all of the needs. Every little bit helps!
Lotus Of Siam Moving – Many long-time visitors have known about this "best kept secret" for upwards of a couple of decades now. Tucked away in a nondescript, older shopping plaza just a few minutes east of The Strip on Sahara, Lotus of Siam was one of those "worth the taxi fare" places to enjoy. They closed down a couple of months ago when we had a day of serious rain which finally caved in their roof (and, left the very first leak in mine).
They are taking the opportunity to relocate to a much nicer location on East Flamingo, just past Paradise Road. However, it will be a couple of months before they open. In the meantime, we have another "locals best kept secret" for Thai: "Weera Thai Restaurant" is on West Sahara (just past Valley View and about 1/2 mile past Palace Station). Noted local food critic John Curtis calls them the second best Thai spot in town. Prices are locals friendly.
If you are still using those expensive cabs (which tend not to show up at off-Strip locations when you call), remember that we're giving you your first Uber ride (up to $20) for free. I love Uber. My car broke down a while back, and Uber was always there to pick me up within minutes of asking for a ride. Their app is super-easy to use. Free ride code is UberAV
$500,000 – If you've ever wondered how much Celine Dion makes per performance for her residency at Caesars Palace: The first show back after the shooting, she declared that proceeds from that show would be donated. The tally? Over $500,000!
OJ Is Living In Las Vegas – OJ Simpson is out of jail and living in Northwest Las Vegas to serve out his parole. On a golf course. Presumably so that he can continue the hunt for his wife's killer. (Old joke). He hasn't been shy about getting out and about, so keep your eyes open. Word is that he's super friendly to people who approach to say hello.
The Weather Is Stunning – As I've noted in the past, October is the absolute best time of year to be here. With rare exception, temperatures are in the 70's and 80's (F). A few weeks ago, I promised a special month-by-month report on what to generally expect for each month of the year, ranging from weather to who is visiting to activities. Obviously, we were waylaid by the tragedy of October 1. We'll get that prepped for you soon.
Hope you are enjoying this issue!
Ted Newkirk, Publisher
Editor: Rick "VegasZiggy" Ziegler
Associate Editor, News Researcher, Concerts and Headliners: Amy Rayner-Cooley
---
What We're Watching!
Vegas Videos You'll Enjoy

Top 19 Best Cheap Eats Las Vegas Strip
The 19 best restaurants in Las Vegas that are cheap and delicious on the Las Vegas Strip. The Las Vegas Strip can be a tricky place eat as there is lots of overpriced tourist food, but you can also find my tasty restaurants that won't break your wallet if you know where to look. In this video I'll show you my favorite burgers, pizza, tacos, sandwiches, and of course deserts!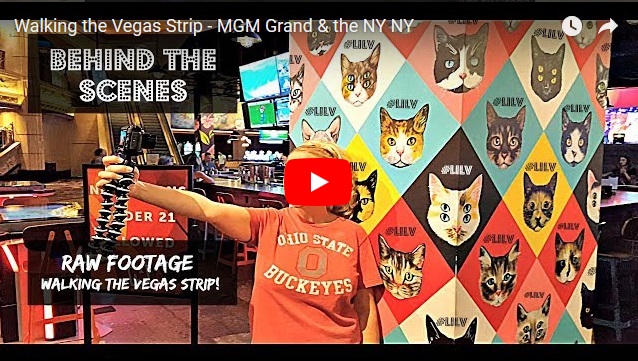 Walking The Vegas Strip – MGM Grand And The New York-New York
Enjoy a real time, real life stroll through two of Las Vegas' most popular resorts!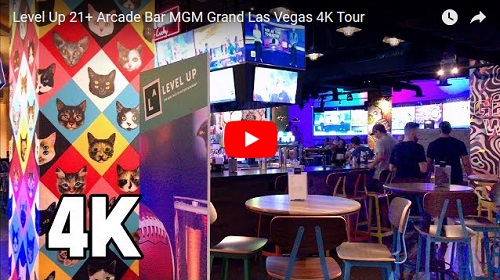 Level Up 21+ Arcade Bar MGM Grand Las Vegas 4K Tour
Take a look inside the new millennial game room at MGM Grand Casino in Las Vegas.
---
Premium Insider Advantage Benefits Menu:
Thank you so much for being a AccessVegas.com Premium Insiders Advantage member. We really appreciate the support and we're here for you!
How To Access What:
Vegas Super Secret Specials Spreadsheet

is available here:

Spreadsheet Version
or
HTML / Webpage Version

Either click to view or right-click to download. It is growing each week, so always check out the latest edition!

Keep in mind that specials are always subject to change. That is why we list the phone number for each restaurant or bar. Please DO call ahead to confirm the offer continues to be valid. Players Card May Be Required For Some Specials. If you find an offer that has ended, alert us at [email protected] and we'll give you 50% off your membership dues next year for the help if you are the first to report it!

Our "Your Guy In Vegas" Feature

– Got a Vegas question? Instead of spending too much time looking up information you might not be certain about, fire it to us! We live here, we know Las Vegas, and we'll give you a professional answer! (Some restrictions apply). Email

[email protected]

and put Paid Subscriber in the subject line. That is also where to send us trip reports, Vegas feedback (good and bad) and more.

Members Mania!

– We share the answers to great Vegas questions with all of our Premium Members, helping everyone who pitches in with a premium membership. Plus great visitor feedback that you can learn from. This will be right here in almost every issue.

The True Inside Scoop

– AccessVegas.com CEO Ted Newkirk has been writing "Newkirk's Notes" for upwards of two decades, giving members the true inside guide to everything that is going on in Las Vegas. Valuable information from someone in the know to save you time and money! This will be right here in almost every issue.
---
Members Mania
We have answers to your Vegas questions!
But, you have to ask the questions.
Email us at [email protected], and let us know, what YOU want to know!
---
Featured Shows

Tenors of Rock Tickets
Save Up To $20 Off!

Circus 1903 Tickets
Save Up To 25% Off!

The Righteous Brothers Tickets
Save $20 Off!
---
---
We love to hear from you!
Here's how to participate:
Drop us an email at [email protected] – We read them all!
Link To Us! – Have a home page, web page, or blog? Link to us, and give yourself and your friends a quick link to find us from your site. Simply link to http://www.accessvegas.com and name the link Access Vegas!
For comments or questions regarding our content or this newsletter write us at [email protected].
October 18, 2017 ISSN: 1529-2770 About Us Privacy Policy
Physical Address: 3565 Las Vegas Blvd. South #411, Las Vegas, NV 89109